We connect the worlds of your purchasing, sales and legal departments into one cooperative whole.
The mib:CLM solution delivers better protection for your business, investments and current and future profits. You get a comprehensive and continuous overview of your contractual agreements in relation to your business transactions. You will significantly speed up and clarify the process of creating and commenting on contracts. You will be sure that the contract is created in accordance with your internal regulations


---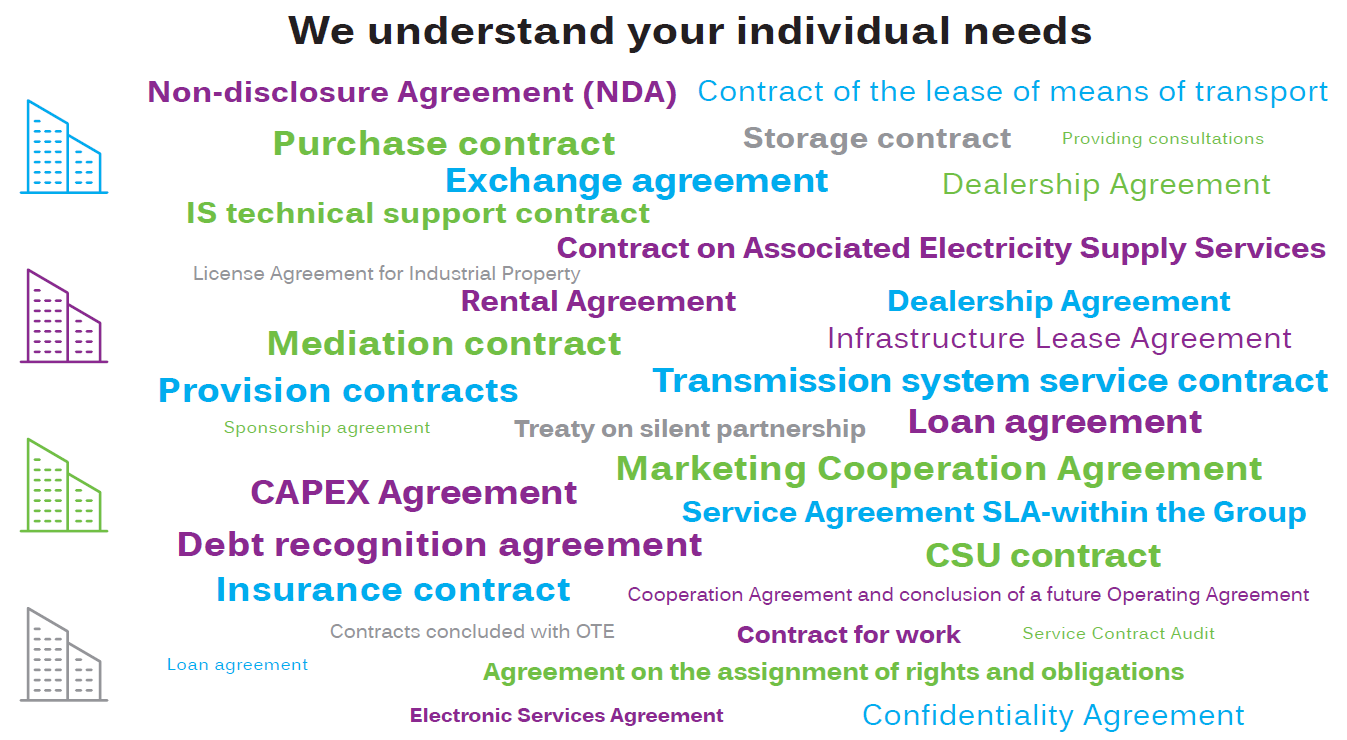 ---
Co našim klientům přináší implementace mib:CLM:
Overview of contracts and relationships with business partners
Compliance with rules and regulations
Reduction of supplier-customer risks
Monitoring compliance with contractual arrangements and avoiding financial losses
Reduction of time spent on contract drafting,
Ensuring continuity of concluded contracts (expiry monitoring),
Reducing audit costs,
Faster closing of contracts + centralised storage,
Checking conditions and process settings in SAP,
Preventing unauthorised access to sensitive information. 
---
mib:CLM pokrývá celý životní cyklus smluv: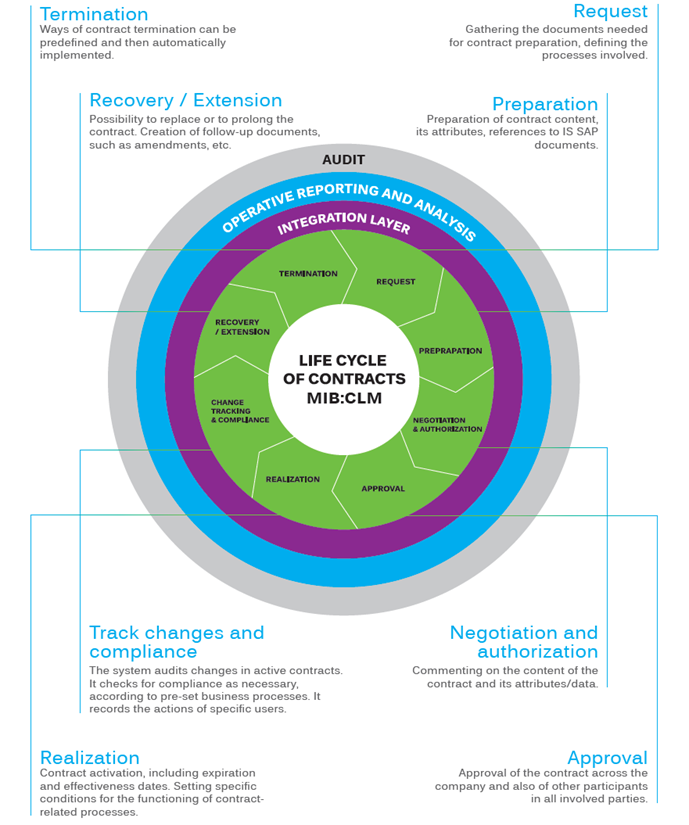 ---
Smart Contract 
Automated processes guide you, for example, through the entire processing (preparation) of the contract, informing the participants of the progress; automatic termination or call for prolongation; automatic check of compliance with set business rules; possibility of automatic checks against currently executed business transactions in SAP.
Protection of business
Thanks to the connection with SAP, we control compliance with business conditions - helping to reduce supplier and customer risks. You can use contract templates pre-configured by your legal department. Changes are configurable and all changes are recorded. The audit and control department has an overview of one contract in detail and the status of all contracts across the company.
Flexibility
Extensive customization options include document templates, approval/comment areas, authorization, vetting/scoring, interaction with surrounding systems, etc. The flexible architecture allows the solution to be deployed and operated in any industry. We also use modern technologies in the user interface (UI/UX) so that the application can be accessed from any device.
Compliance
For each contract there is a choice of classification level. The 360° view of the contract offers you a comprehensive view of the related information and documents. The solution supports interfacing with ARES or the Public Register of Contracts of the Ministry of the Interior (ISRS). It also provides for connection to the internal or external Risk System. You can edit contracts. 
 Teamwork
Our customers appreciate the fact that they spend less time than before on creating and commenting on contracts, thanks to the complete digitalization. We automatically differentiate and control which employee should add specific information. A clear graphical representation of the workflow shows how the approval, commenting and other team processes progress. We visualize and clearly store the collaboration of all participants for the needs of the contract manager and auditors. 
---
You can download the complete product datasheet, including the list of functionalities, here: