"Tailor-made" project S/4HANA and SAP Commerce won bronze medal.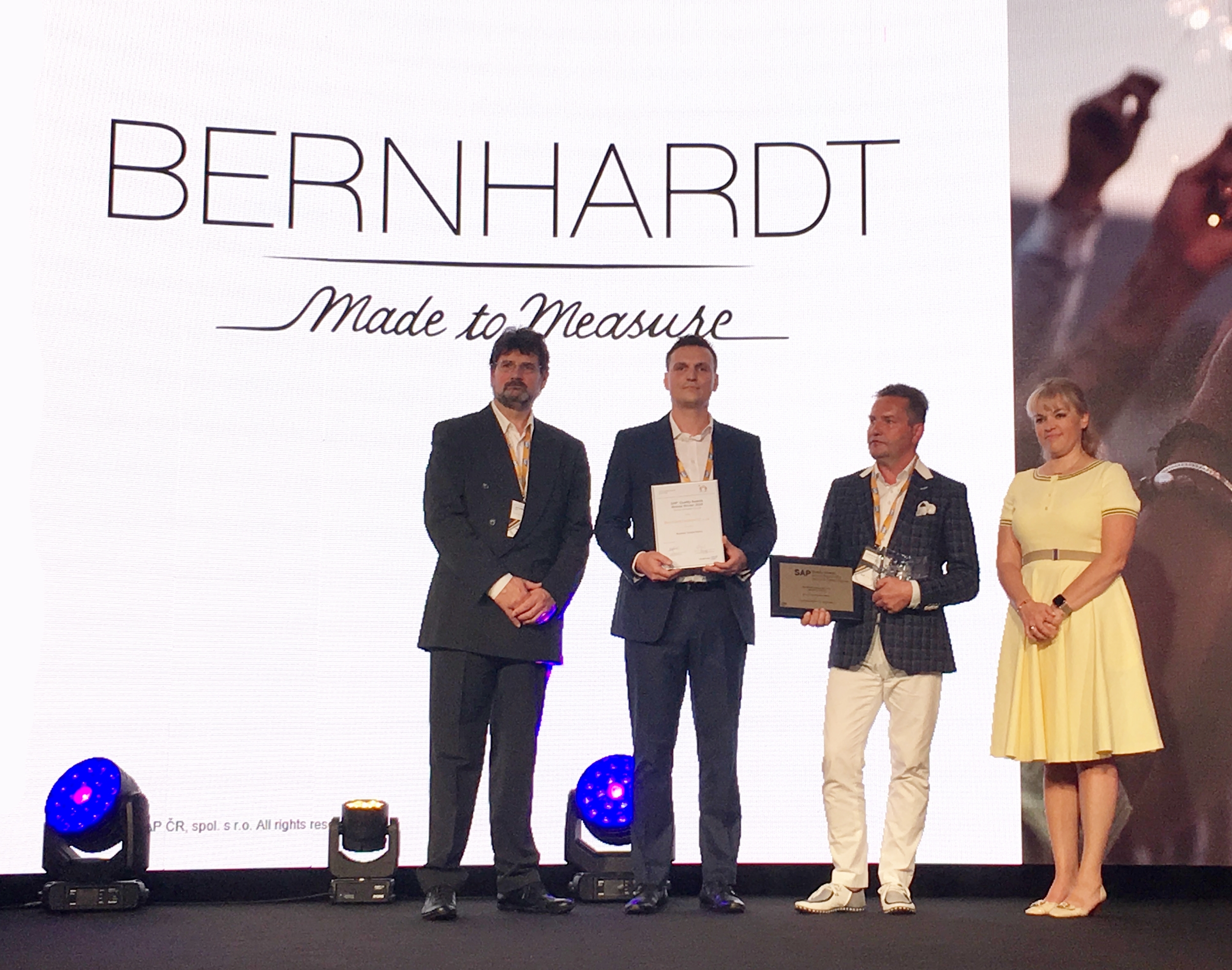 Bernhardt Fashion boasts quality not only in the field of custom tailoring. The award for quality within the SAP NOW 2019 conference was won by the manufacturer of top suits in the area of IT system implementations. It was taken over by Jindřich Koryčan, sales director and managing director of Bernhardt.
The company received a bronze medal in the SAP Quality Awards CEE (Central and Eastern Europe) competition, in the Business Transformation category, specifically for the project of implementing the new SAP S / 4HANA corporate system and the SAP Commerce system. MIBCON is the implementation partner of this project. Jan Filip and Roman Pavlovský from MIBCON presented the implementation experience at SAP NOW today as part of the Customer Stories section.
The jury appreciated that the project covered previously fragmented SAP processes operating online, in real time. The new generation of the SAP S / 4HANA 1709 enterprise system replaced two ERP systems, but at the same time retained the specifics of the company, which sews clothes in Prostějov for demanding clients from 40 countries on 5 continents, where Bernhardt has approximately 800 Point-of-Sales. Each product is original. Individual fabric selection, customer measurement, color or cutting variants, all this allows you to create a unique design for each client.
The project consists of two phases - in the first stage MIBCON implemented a system for finance, logistics and production (SAP S / 4HANA 1709). The implementation took 12 months, and the system has been in productive operation since January 2019. The deployment of the sales and ordering portal (SAP Commerce) was done subsequently.
The main benefits of the "new" SAP S / 4HANA system are as follows:
• Preservation of know-how for unique processes - migration of customer development to the new system
• Faster and smoother dispatch of goods - reduction of administration and documentation for the export of goods - 50% labor savings. Savings on transport costs 20 - 40%.
• Simplification and acceleration of invoicing - only electronically and directly from SAP S / 4HANA
• Receivables management - the option of blocking deliveries until unpaid invoices are paid, at the same time customers will automatically receive notifications of open receivables.
• Goods coming to the warehouse - in the previous IS it was necessary to take over each item of goods individually. Now the system takes over the whole set in one click. Reduction of the time of taking over the goods to the warehouse by almost 70%.
• Faster decision-making process, real-time data analysis - the possibility of immediate reporting of results and financial statements (previously it could have taken several days).
The list of SAP Quality Awards that our clients have received in recent years is shown in the picture below